Who We Are
Black Fire reunites a group of restaurant professionals; highly experienced, imaginative and passionate.
Meet the Black Fire
Meet the faces behind our Black fire "Fuego Nero" project. A bite-sized scoop on what you can look forward to – think summery cocktails, a well condensed wine list, and slow-roasted fare.
The "Fuego Nero"
Carolina Sanchez Lopez (AKA "Fuego" the all-knowing GM) and Paolo Milanesi (AKA "Nero" the executive chef)
Carolina began her career in hospitality working in the Spanish markets, fine restaurants and ferias of Madrid. In Asturias and Lanzarote Carolina was a food connoisseur, where she developed a strong passion for service with personality. Carolina has progressed through various positions in Spain and Australia, and has become a real inspiration. She is our wealth of hospitality knowledge as the venue's General Manager.
What are you most excited for patrons to discover at Black Fire? "I'm excited for them to experience the lot. It's such a unique venue, service and exceptional food."
What makes for a truly memorable dining experience? "Making people feel an experience with personality."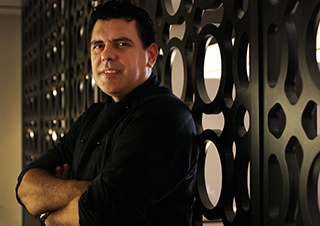 Paolo's chef's credits comprise national and international successes including Michelin-starred restaurants in Italy and Spain, and most recently, Locanda's Canberra Rydges Lakeside and "Il Piatto" Darwin Skycity Casino. Paolo heads the kitchen and is serving up an array of beautiful Mediterranean Spanish influenced dishes and a fire pit slow-roasted fare. "I like to make food as a genuine journey through an experience of our Mediterranean culture and that tastes really good."
the Savvy and "The Neuro"
Dexter Mathias (AKA "The Savvy" Floor Manager) and Claudio Milanesi (AKA "The Neuro" Cocktail Maestro)
Dexter is an authority in hospitality, he spent many years working with the highest level 5 star hotel restaurants in Spain, Italy, India and here in Australia. He has a lot of experience.
What is the vibe in Braddon and at Black Fire? "Braddon is a full on hospitality suburb where you can find multiple food and cultural concepts, really anything, it's a beautiful mixture with a wonderful history. Black Fire reflects a concept of all of that with it's own unique and authentic food and service experience… Who wouldn't want to be a part of that?"
Claudio has worked for more than 3 decades in bars across Europe, and brings his cocktail expertise and passion for Canberra's drink culture to Black Fire. He is the venue's Bar Mixologist.
What's your nickname? "Apparently 'The Neuro' has stuck due to my passion in Sangria and Cocktails and I go crazy to make sure the ingredients are all right."
The cocktails and mixes to look out for in Black Fire are… "Mojitos and definitely the Sangria."
Philosophy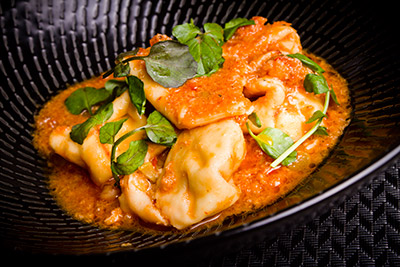 The menu at Black Fire comes to your table authentic and original. Our varied selection of food is supplied daily from the best local farms and producers, organic as much as possible and with a fair and sustainable history.
Our fresh vegetables and fruits come from sustainable organic farms in Cooma; our meats are supplied by a Riverina producer with an 80 year history of making pure breeds. Our fish and seafood are supplied daily by the Sydney fish market.
A modern rustic cuisine style. We slow roast meats and vegetables for all to see on our open fire pit and Asturias style wood fire oven. We burn herbs to aromatise the food in them, which is expertly tended to by our experienced chefs Carlos and Jack who have been trained to cook on wood fire uniquely this way since kids. Our selected meats spend up to 8 hours slow cooking on the roast before they hit your table...
We prepare fresh pastas and roasted Spanish rice "Arroz Caldoso" to feed up to 10 persons in our clay pots. A touch of fine dining with a selection of entree bites, seafood and mains to 'mesmerize your palate'.
Food is our business and what we love to do!